Do I need to hire a party planner?
When you schedule your event with us you are assigned a party planner (we like to call them Professional Event Strategists). Your Event Strategist serves as the official party planner - they will guide you through every step, and make sure all the bases are covered.
You need an experienced partner to help you plan your big event. We know, we've done hundreds. Let us take the uncertainty out of planning your event.
We listen and understand your needs, and we aren't satisfied until you are. Our team excels at the attention to detail that is required to manage large scale events. How can we assist YOU today?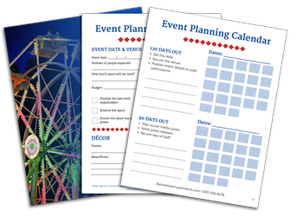 Free Printable Event Planner
Download our free printable event planner. It contains a checklist and calendar to help you get started planning your party or event.