Download our Free Event Planner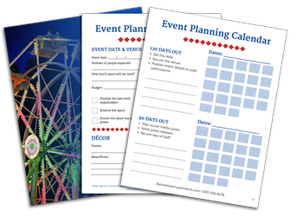 Fill out the form on this page to download our free printable event planner. Whether you are planning an employee appreciation event, campus fundraiser, or church picnic, our Event Planner will help you get started.
This FREE printable download contains:
Event planning checklist to help you start your event planning process.
Event planning calendar to help you schedule and track progress.
When you download our Event Planner we ask for your contact information so we can follow up to answer your questions. We will never pester you, and we promise never to sell your personal information.
* Indicates required field
Check Out Our Event Pages: